SHORT BIO
Hi, an old musician friend of mine once said 'If you can't play the Blues right - don't mess with 'em..' - and he was right. Playing Blues music is rarely done in the hope of financial gain, but it often takes place in a state of high reverence for the past and the awareness of continuing something called 'tradition'. In my own case, when many of my friends were mainlining on the Beatles, my teenage years were spent thrilling to the sounds of Sam 'Lightnin' Hopkins and Muddy Waters, wrestling with first a cigar box and later a guitar with a neck like a banana, trying to copy the raw Blues emanating from the scratched vinyl on my distorted Dansette record player. And one day I hoped I'd own a red Fender Stratocaster like Hank Marvin, stand on a stage, play it LOUD, and that one day I'd look out and see the girl of my dreams. I'm pleased to say that over the years it's all happened....give or take a few errors along the way.

It's a way - as you'll see from the Gallery - that's given me the chance to play with some of the greatest names in Blues, something which I could never have imagined might happen in my wildest imagination. I'm forever grateful for their company, incredible music, and the lessons I learnt trying to get to grips with the music
Julian Piper November 2012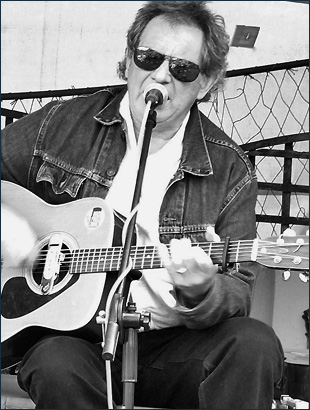 Julian has played on two albums that have received the prestigious W.C. HANDY AWARD in Memphis, toured and played alongside LAZY LESTER, CAREY AND LURRIE BELL, LEFTY DIZZ, EDDIE KIRKLAND, TABBY THOMAS, CHRIS THOMAS KING, KENNY RAY NEAL, EARL KING, LOUSIANA RED, U.P. WILSON, EDDIE C CAMPBELL, LOWELL FULSON.
He's shared stages with BUDDY GUY, ROBERT CRAY and B.B. KING. In 1987 Julian spent a year in Baton Rouge - a place he now regards as a second musical home - working night after long humid Louisiana night, on the bandstands of the city's small juke joints - notably the legendary Blues Box run by Rockin' Tabby Thomas 'King Of The Louisiana Swamp Blues'.
Thanks to Tabby Thomas's encouragement, Julian was quickly accepted by the local blues community. He played regularly alongside Excello legends ARTHUR 'GUITAR' KELLY, SILAS HOGAN, CLARENCE EDWARDS and LAZY LESTER, or with the new kids on the block like KENNY RAY NEAL, LARRY GARNER or CHRIS THOMAS KING. And on nights off he could sometimes be seen playing down the road in New Orleans with local harmonica legend J. MONQUE'D.
Whilst in Louisiana, Julian collected material which was subsequently broadcast on his successful BBC RADIO THREE series 'Blues On The Bayou'. He also recorded what sadly turned out to be the last album ('THE GODFATHER') made by 76 year old SILAS HOGAN. He also co-produced and played on TABBY THOMAS 's 1988 release 'KING OF THE SWAMP BLUES'.
Julian's band JUNKYARD ANGELS was formed in 1975 and still performs regularly. Over the years they have appeared at just about every European Blues Festival on the map, and featured numerous times on the Paul Jones BBC2 Radio Show. In 1998, along with harmonica player Jeff Fuller, Julian appeared at the Baton Rouge Blues Festival, and performed on the legendary King Biscuit Radio Show broadcast from Helen Arkansas.
In 2009 he fulfilled a long time ambition by appearing at The NEW ORLEANS JAZZ AND HERITAGE FESTIVAL alongside Tabby Thomas and Chris Thomas King, and has recently jammed at Rosa's Club in Chicago and Morgan Freeman's Ground Zero in Clarksdale Mississippi.
Julian also currently writes for 'Guitarist', 'Guitar And Bass' and 'Acoustic' magazines, his slide guitar playing has featured on 'Guitarist' tutorial CD's, and his writing has been published in MOJO and THE GUARDIAN and INDEPENDENT.
LONG BIO
Finding The Mojo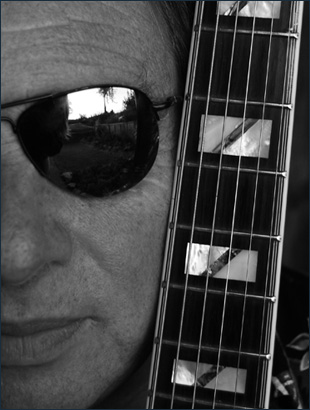 Pilgrimages are strange things, some people seek them out hoping for moral redemption, and for others they happen by a twist of fate. For Julian Piper it occurred on a Spring evening in 1988, outside a lonely cedar wood shack near Lula Mississippi. It was the home of Sam Carr, drummer in the Jelly Roll Kings and a man who'd been through more changes in one life than most. His father had been the legendary Bluesman Robert Nighthawk, the man who along with Elmore James, wrote the rule book on electric slide guitar.
'Sam had Robert's old Guild guitar in pieces, wires spewing everywhere but he let me use his brass slide and play his acoustic; it almost burnt when I put it on my finger…' he recalls.
As the two men sat outside eating fried Catfish and Greens, a cloud of small bats swirled in the evening air, and the late evening sun was bathing the cotton fields in a muted orange glow.
'Sam was telling me about when he had to run away at night because the Klan were coming for him, his days playing with Sonny Boy Williamson…..I realised that sitting there that night, I was probably about as near the heart of the Blues as I - a white boy from Devon England - was ever likely to get. It was a strange feeling…..'
And it has been a long journey. One that started out as a kid spinning albums of Lightnin' Hopkins, T Bone Walker and Bo Diddley, watching Chuck Berry on his first UK tour shortly after being released from jail, listening to James 'Butch' Cage singing slavery songs on record, then in 1988 recording in Louisiana with the great Silas Hogan who had played with 'Butch' years before. Then there was meeting up with Muddy Waters, listening to B.B. King tell his yarns - the Blues has been around Julian for a long time.
Born in Topsham Devon, Julian's early initiation into the Blues was when in 1976 he formed JUNKYARD ANGELS, a three piece outfit whose adherence to playing nothing but down the line R n' B heavily influenced by Dr Feelgood and George Thorogood, was executed with religious fervour..
This was the dawn of Pub Rock and the band held down residencies - notably at the Prospect Inn in Exeter - where their Sunday night shows became the stuff of local legend.
At the same time Julian formed the Julian Piper Allstars, a more traditional Chicago outfit featuring the keening harmonica of Ian Briggs that backed up Dave Kelly of Blues Band fame, and the great slide guitarist Sam Mitchell at Exeter University.
In 1980/82 the band visited Holland three times and after various line up changes, in 1984 appeared alongside ROBERT CRAY on his first UK tour. They also appeared as a backup band for EDDIE C. CAMPBELL and LOUISIANA RED - Julian still has a letter from Red asking that Junkyard Angels become his full time band !
Convinced that there was no substitute for the real thing, in 1986 Julian and the band hit the road with Chicago bluesmen CAREY AND LURRIE BELL.
'It was quite a baptism by fire,' Julian once recalled.' We had sixteen dates and no real idea what we were in for ! Carey and Lurrie were very lovely guys and very patient with our playing which must have fallen far short of what they must have been used to. I still think it would have helped though if Carey had told us the keys before starting songs…'
The band also recorded 'Straight Shoot' with Carey and Lurrie. Recorded in just four hours with Julian holding the Producer reins, the album came second in the category for Overseas Produced albums in the 1987 W.C. Handy Awards in Memphis.
Further tours followed with LEFTY DIZZ, EDDIE KIRKLAND and then in May 1987 with Louisiana harmonica legend LAZY LESTER who'd been brought to the UK by Producer Mike Vernon. A man who famously recorded the 'Beano' album with JOHN MAYALL and ERIC CLAPTON, and worked with FLEETWOOD MAC and FREDDIE KING, alongside Scots band Blues n' Trouble, the band recorded 'LESTER RIDES AGAIN'.
This album also received a Handy Award and was voted top Blues album of 1988.
Following the Lazy Lester tour Julian relocated to Baton Rouge Louisiana for a year. There he quickly became good friends with 'ROCKING' TABBY THOMAS, self styled King Of The Louisiana Swamp Blues, and his son CHRIS THOMAS KING. Tabby ran the 'Blues Box', a rough and ready Juke Joint that had become something of a legendary Blues haunt. Often playing guitar five nights a week - sometimes on Bass and even occasionally on Drums - Julian became friends with legends like SILAS HOGAN and ARTHUR GUITAR KELLY, and also backed up New Orleans Harmonica man J.MONQUE'D.
'It was an incredible Blues apprenticeship and something that I'd always dreamt of doing; somehow for an English guitarist to hold his own in those circumstances had to be the ultimate test - there was nowhere to hide. Tabby would bawl me out sometimes for playing too loud, but apart from that we got on pretty well !'
Upon returning to England Junkyard Angels went back on the road, touring with TABBY THOMAS and KENNY RAY NEAL in 1989 before doing a European tour in their own right which saw the band appearing in Switzerland, Italy, France and Spain.
In 1991 Julian was commissioned by BBC Radio Three to broadcast a four part series BLUES ON THE BAYOU. Largely compiled of field recordings made in Louisiana, the Sunday Telegraph described it as 'The best thing on radio this week.'
That year the band also headlined the Gloucester Blues Festival with New Orleans legend EARL KING and notably backed up LOWELL FULSON -t a show in Exeter after just five minutes rehearsal !
Further tours with TABBY THOMAS and U.P. WILSON followed in the intervening years, the band often appearing at major Blues Festivals and clubs. In the early 2000's EDDIE KIRKLAND toured again and the band also hit the road with PHIL GUY.
In 2009 Julian realised the life long ambition of appearing on the New Orleans Jazz Festival Blues stage, alongside his old friend Tabby Thomas, on a bill that included Buddy Guy and Bonnie Raitt.
Recent years have seen Julian working with harmonica ace JOHNNY MARS, appearing solo and with Junkyard Angels, and an occasional collaboration with Jazz pianist Craig Milverton in an organ trio JELLY ROLL.
When he's not playing guitar, Julian writes for Guitarist, Acoustic and Guitar n' Bass magazines, and holds down a bi weekly radio show 'Driving South' on Exeter's PHONIC FM.
Festivals Julian has appeared at include the following :
2009 New Orleans Jazz and Heritage Festival, Blues Festival de Beauvoord Belgium, Baton Rouge Blues Festival, Gloucester Blues Festival (5 times), Festival de Blues Cerdanyola Spain, Cork Jazz Festival (6 times), Kinsale Jazz Festival (3), Edinburgh Jazz Festival, Birmingham Blues Festival, Midsomer Blues Festival Nijmegen Holland, Ecaussines Blues Festival Belgium, Dartmouth Music Festival, North Devon Festival, Plymouth Barbican Jazz Festival (3 times)Malborough Music Festival, Redcar Blues Festival, Colne Blues Festival.
His Guitar playing features on the following albums :
CAREY AND LURRIE BELL 'Straight Shoot', LAZY LESTER 'Lester Rides Again',TABBY THOMAS 'King Of The Louisiana Swamp Blues', SILAS HOGAN 'The Godfather', SILAS HOGAN and GUITAR KELLY 'Swamp Blues', DAVE BERRY 'Memphis In The Meantime', JUNKYARD ANGELS 'Dirty Work At The Crossroads', 'Lonesome La La', 'Primal Blues', 'Tangled And Twisted', JELLY ROLL 'Can I Play With Your Poodle ?' JULIAN PIPER 'Terlingua'

RECORDING INFO
JULIAN's Guitar and Slide Guitar can be heard on the following recordings.

DIRTY WORK AT THE CROSSROADS - JUNKYARD ANGELS - BSW
Named after the Clarence 'Gatemouth' Brown title track, the band's debut album was recorded in 1988 at studios belonging to Martin Barre of Jethro Tull with the band's touring line-up of Julian Piper (gtr, vcls), Steve Ewart (b), Dave Eustace (dms) and Craig Milverton (keys). Features reworkings of Magic Sam's What Have I Done Wrong and Robert Johnson's Travelling Riverside Blues alongside original numbers.

LONESOME LA LA - JUNKYARD ANGELS - BSW
The band's second album recorded in 1994 where they were joined by Jeff Fuller on harmonica and vocals, with the Louisiana influence to the fore. The title track is by Silas Hogan and was amongst the songs originally recorded with Silas back in 1988 for his own album.

TANGLED AND TWISTED - JUNKYARD ANGELS - BSW
Julian Piper(gtr), Olly Davey (b), Ed Lomax (dms), Craig Milverton(keys) - and the accent on the B.B.King influence with a rumbunctious take of B.B. 's ''She's Dynamite'' and the band's ''Feels Like Pain.''

CAN I PLAY WITH YOUR POODLE - JELLY ROLL - BSW
Trio featuring Craig Milverton on Hammond organ alongside Andy Mills (Drums) and Julian's guitar work on wide range of material including the T Bone Walker's ''Evening'', the Memphis influenced ''Chicken Shack'' before heading back down South for a ripping version of The Meter's ''Cissy Strut''.

THE GODFATHER - SILAS HOGAN' - BSW
During his stay in Louisana, Julian and 76 year old Silas Hogan became firm friends and often performed together a the Blues Box. This album, which features local Baton Rouge musicians alongside Julian on guitar sadly proved to be Silas's last recording session. In a long career which started with Excello and included Silas's tongue-in-cheek recording "Hairy Leg Woman"(!), it was a fitting last burst of down home blues. RIP.

STRAIGHT SHOOT - CAREY AND LURRIE BELL' - BSW
Julian's first stab at Producing and a baptism by fire ! The recordings took place mid tour in four brandy soaked hours with the Bells. This album was voted 2nd best Foreign Blues Album in the world in the 1987 WC HANDY AWARDS, and is a fine musical snapshot of two Chicago bluesmen at the peak of their performing creativity!

KING OF THE SWAMP BLUES - TABBY THOMAS' - Maison De Soul
Recorded in 1988 in steaming Baton Rouge and co-produced by Julian, Tabby has always considered this to be amongst his finest recordings. Includes several of Tabby's favourite songs - 'I Love Big Fat Women', 'You'll Never Get Rich In Bed' and Louisiana Woman' - and features a host of local musical celebrities including Bill Samuels, then Sax player for Clarence 'Gatemouth' Brown.

LESTER RIDES AGAIN - LAZY LESTER - BLUE HORIZON
Voted Best new release in 1988 W.C. HANDY AWARDS, this album was produced by Mike Vernon, whose legendary work with Eric Clapton and John Mayall has assured him a very large place in the annals of British blues history. It was to be the first release of Mike's re-vamped Blue Horizon label and Julian and the band were chosen along with Scots Band Blues N' Trouble,, to act as Lester's backing band. Also on the session was UK keyboard legend Bob Hall and the ex Dr Feelgood drummer, The Big Figure. For an album recorded in a converted pig-sty somewhere deep in the bandit bad-lands of Essex it did rather well.

MEMPHIS IN THE MEANTIME - DAVE BERRY - BLUES MATTERS
The new comeback R.n'B. album by the legendary 60's star on the Blues Matters label, which included songs by John Hiatt, The Allman Brothers and Fats Domino, was produced by Julian and featured JUNKYARD ANGELS, as the session band.

TERLINGUA
Julian's first solo acoustic album on which he plays Slide Guitar and Mandolin, features seven Piper originals alongside re - workings of songs by the Mississippi Sheiks, Fred McDowell, Skip James and The Grey Ghost.